Texas 87 - Arizona State 85
I had a whole paragraph here about how I can't take Texas coach Rick Barnes' coaching acumen seriously (he's a heck of a recruiter though), but it disappeared and, rather than re-write it now I'll simply save it for later in the tournament (most likely Saturday) since Texas held on to win.
I'm glad I stayed up for this ending, as it was a classic buzzer beater, with Texas' Cameron Ridley (built like a Mack truck) got his putback attempt over the outstretched hand of ASU's Jordan Bachynski (quite a feat considering he's 7'2").
This picture says it all: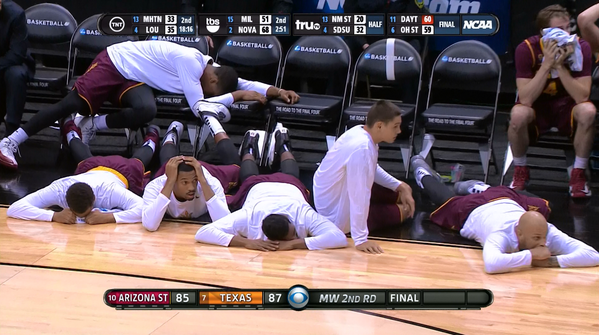 Villanova 73 - Milwaukee 53
Villanova was leading by only 4 points, then clearly realized 1 of 2 things at halftime:
1) "Guys, we're playing the Milwaukee college team, not the NBA one."
2) "Guys, even if we're playing the Bucks, we should be winning by a lot more than 4 points"
If you don't get it,
take a look
a NBA Milwaukee's record.
Louisville 71 - Manhattan 64
Rick Pitino spent much of yesterday complaining about having to face Manhattan in the first round because they are coached by his former ball boy, player, and assistant coach who knows Pitino and his program inside-out. Turns out, Pitino was on to something. That's the thing about self-serving highly paid head coaches like Pitino or Saban: when they complain they sound self-absorbed and ridiculous, but they're usually right.
San Diego State 73 - New Mexico State 69 (OT)
Why did a 4 seed have such trouble with New Mexico State? They had to try and guard this guy:
Yeah, his name is Sim Bhullar and he's 7'5". Luckily for SD State, after letting a 14 point lead slip away in the second half, they were able to pull this one out in overtime.