Some thoughts on the USA's
2-1 win
2-2 draw against Portugal:
- AAAAAAAARRRRRRRRRRGGGGHHHHHHHHH!!!!!
- After one game where US fans got to experience what life is like on the other side of an early goal (thanks to Clint Dempsey's strike in the first minute), the national team reverted back to its 2010 ways when Geoff Cameron horribly botched a simple clearance, giving Portuguese forward Nani the ball free on Tim Howard. The result was a familiar an unappealing sight: The USA down a goal before the 5th minute of the match had expired.
- That said, Portugal made essentially the same decision that the US made after their early goal in their first game: they sat back and tried to hold it. This gave the US time to gather themselves and a chance to put some possession and attacks together, giving the team some confidence. Just like when the US did it, it was a mistake. For one thing, you cannot simply defend for 80+ minutes to protect a 1-goal lead. Additionally, Portugal's goal differential was so bad after game 1 that pressing for more goals would have been a good idea.
- Michael Bradley was significantly better than he was in the Ghana match. Of course, that's like saying FEMA did a better job responding to the next disaster after Katrina. He wasn't the turnover machine we saw against Ghana, but he did a) blow a wide open chance on goal with just a defender (not a keeper) between him and the net from 6 yards out, b) do a poor job on at least one 4-on-2 break where he simply made the wrong pass, and c) still wasn't as crisp on his pass attempts as we have become accustomed to. And then, he helped bring about the disastrous sequence of events in the last minute of stoppage time, but more on that later.
- I was watching this game with my Dad, and about the 55-minute mark, one of us remarked that the US trying so many 25-30 yard shots wasn't a good decision if they wanted to really threaten to score. About 5 minutes later, Jermaine Jones struck on just such a shot. It was a gorgeous bending shot where Portugal's keeper simply stood still because a) he thought it was going wide and b) he wasn't touching it anyway. Shows what we know, I suppose. Jones again shone in this match.
- On a related note, Jones did pick up a yellow card, though I believed it to be a harsh decision by the referee. You have to wonder if Jones' history and reputation worked against him there.
- Clint Dempsey filled in admirably for Jozy Altidore as the lone forward, especially given it's not his natural position. Dempsey put in the work against Portugal's defense, and got his share of chances before finally burying a short cross from Graham Zusi into the back of the net with his chest. This was the result of a sequence made possible by the blazing speed down the right wing of substitute DeAndre Yedlin, a surprise inclusion onto the team by Klinsmann.
- Okay, let's get to the last minute of the game. First, DeAndre Yedlin made a couple of mistakes: first he crossed it into the middle for Chris Wondolowski instead of dribbling in the corner. He was able to get the defelcted cross back and then made his second mistake: he stopped the ball from going out of bounds for a throw-in in favor of trying to waste clock with the ball at his feet. Unfortunately, Portugal was able to kick it off of his leg to gain possession on a throw in.
Then Portugal cleared it and Geoff Cameron headed it to an area populated by Michael Bradley. Bradley's first touch completely eluded him, allowing 4 Portugal players to converge on him. And here the coach's son made a bad mistake: instead of clobbering the ball out towards one of the sidelines, he tried to get cute and control it. Instead he was bodied off of the ball and the break (for Portugal) was on.
To be fair, the US still had numbers back, see this image posted by ESPN analyst Taylor Twellman to twitter: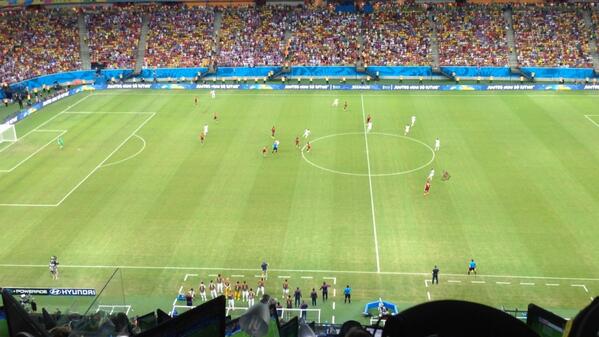 But the defense put all their focus to Ronaldo out wide on the right-hand side at the expense of the single Portguese player running into the eighteen-yard box. This especially includes right back Fabian Johnson and right-centerback Geoff Cameron, the defenders Varela ran between to find Ronaldo's cross and break US fans' hearts everywhere.
So what does it all mean?
The United States plays Germany at 12PM Eastern on Thursday. At the exact same time, Portugal and Ghana square off. The US will advance to the knockout round with
- A win over Germany (this would win them the group as well)
- A draw with Germany (which would also see Germany advance)
- Any result versus Germany combined with a Ghana-Portugal draw
- A loss to Germany combined with a Portugal win where the margin of victory is less than 4.
- A loss to Germany combined with a one-goal Ghana win where the US scores at most one fewer goal against Germany than Ghana scores against Portugal (for example, the US loses 2-1 to Germany while Ghana beats Portugal 1-0 or 2-1)
Bascially, if the US can't get a result against Germany, root for a draw first, then for Portugal to win (but not in a blowout) in the other game.