Dallas (-7) over LONDON JACKSONVILLE
Tony Romo is healthy enough to practice all week, so I'm assuming Tony Romo is healthy enough to play. And while the Jaguars do rush the quarterback well, that's pretty much all that they do well. Dallas may be falling back to earth after their dream start, but losing to the Jaguars would require they fall through earth all the way to hell (or as Cowboys fans call it, December).
DETROIT (-2.5) Miami
This game will come down to the passing games of these two teams, because neither defense can be run on. I feel pretty good about saying Matt Stafford will make a few more plays in this game than Ryan Tannehill. I just don't know if those plays will be a) laser throws to his receivers, b) bad decisions that turn into good decisions because they're to Calvin Johnson, or c) sidearm throws off his back foot that sail and find Dolphins defenders. With Calvin Johnson back and healthy, I'm going to give the slight edge to the Lions.
Kansas City (-2) over BUFFALO
As of this posting, Kyle Orton's security blanket (no, not his beard, Sammy Watkins) looks pretty iffy to play. And if he does play, it presumably will be in a fairly limited capacity. I don't love the Chiefs' secondary, but Buffalo doesn't have the arsenal to attack it if Watkins isn't close to 100%.
San Francisco (+5.5) over NEW ORLEANS
Every time the 49ers hit a rough patch, people watch to see if the team and their uber-tightly wound coach, Jim Harbaugh, will finally collapse under the strain of expectations and frustration. Every time, the 49ers respond to continue their march toward NFC Championship games. I'm betting they do it again. While the Saints have been playing much better recently, I'm not yet convinced the turnaround is for real. They may just be (easily) the best of a very bad lot (the NFC South). And San Francisco has to find a way to make things easier on their quarterback than they did last week...right?
BALTIMORE (-9.5) over Tennessee
The Ravens got some bad news this week when their top cornerback, Jimmy Smith, underwent season-ending foot surgery. They were hopeful initially that his foot sprain would heal in time for him to return before the end of the season, but no such luck. In their first full game without Smith last weekend, they gave up 6 touchdown passes to Ben Roethlisberger in a 43-21 loss.
That makes a line of 9.5 points seem awfully high, as the Ravens are beyond thin at the cornerback position. Fortunately for them, they play the Titans, who have moved on to their third starting quarterback of the season, rookie 6th round pick Zach Mettenberger. Against another team, the Ravens' defensive backfield would get exposed. But not this weekend.
Pittsburgh (-4) over NEW YORK JETS
Ben Roethlisberger has thrown 12 touchdown passes and 0 interceptions in the last two weeks. And now he gets to play the Jets secondary.
Atlanta (-2.5) over TAMPA BAY
Atlanta has terrific weapons at their skill positions, but a
walking
hobbling MASH unit along its offensive line. Fortunately (for the Falcons), Tampa doesn't rush the passer well, unless Gerald McCoy takes matters into his own hands.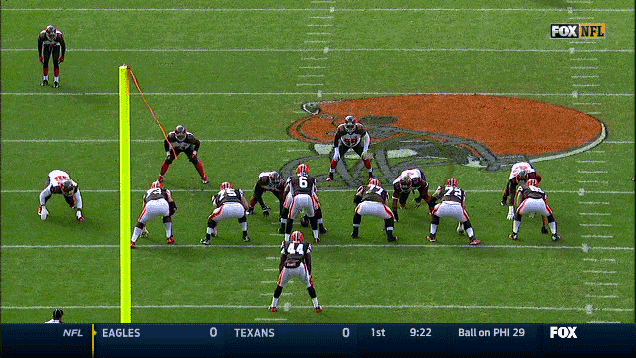 Note to Atlanta: Don't leave your center singled up on McCoy.
Denver (-11) over OAKLAND
I'm just not sure what Oakland is going to do well against the Broncos. Offense? No. Defense? Ha! Special teams? No. Don't be fooled by the 30-24 score against the Seahawks: most of those points came off of horrid special teams play from a team barely able to dress 46 healthy bodies.
ARIZONA (-6.5) over St. Louis
The Rams' newfound ability to pressure the quarterback seems to match up well with a Cardinals team that loves to throw it deep. And that may be true. But an Austin Davis-led offense matches up even worse with a blitz-happy Cardinals defense that has made far better quarterbacks (and Brandon Weeden) melt before them.
SEATTLE (-9) over New York Giants
The Seahawks are very quietly rounding back into form defensively. No one is noticing because a) all their injuries have decimated their special teams coverage groups, handing opponents short fields (or points directly), b) they aren't covering tight ends especially well, thanks in part to injuries to their strong safety position, and c) they're performing terribly in the red zone.
But now they're starting to get healthy...healthier. Players are starting to come off the injury list instead of going on it. And Russell Wilson can't play that poorly at home again...right? Right? RIGHT?!?!?!? Why aren't you answering me?!?!?!?
GREEN BAY (-7) over Chicago
Chicago's defense isn't stopping the Packers, so it's up to Jay Cutler to play a poised, smart game and keep pace with Aaron Rodgers. Do I feel good about picking this to happen? PHILADELPHIA (-6.5) over Carolina
The Sanchize is back!!! And yes, I'm backing him against Cam Newton and the Panthers (the Panthers defense is atrocious). Of course, so is Philly's defense. But can Cam Newton take advantage? Take a look at his numbers from the past 3 weeks (all Panthers losses):
| | | | | | | | |
| --- | --- | --- | --- | --- | --- | --- | --- |
| Comp. | Att. | Yards | YPA | TD | INT | QBR | Passer Rtg |
| 17 | 31 | 205 | 6.61 | 1 | 1 | 17.2 | 72.6 |
| 12 | 22 | 171 | 7.77 | 0 | 1 | 18.1 | 61.0 |
| 10 | 28 | 151 | 5.39 | 0 | 1 | 38.9 | 39.4 |
Yeah, that's not good. So yes, I'm backing Sanchez and the Eagles in prime time. And yes, of course I'm putting in a buttfumble gif, because why not?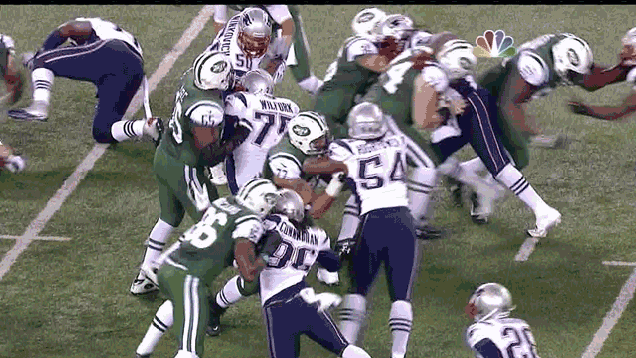 This Week: 0-1 (D'oh!)Last Week: 10-3 (.769)2014 Season: 71-62-1 (.534)